If your vehicle has advanced safety features, it will need to be calibrated when glass is replaced in order to ensure it's working properly.
ADAS Calibrations
Cars are becoming more advanced, which means auto glass is too. Many modern vehicles come with specialized safety sensors, called Advanced Driver Assistance Systems, "ADAS". When auto glass is repaired or replaced, the ADAS mechanisms will often be altered, resulting in a need for an ADAS calibration. Whereas other auto glass shops aren't able to provide this service due to expensive equipment and extensive training, Texan Glass is one of the few shops in the area who can both replace your glass as well as calibrate your vehicle. We're a one-stop shop!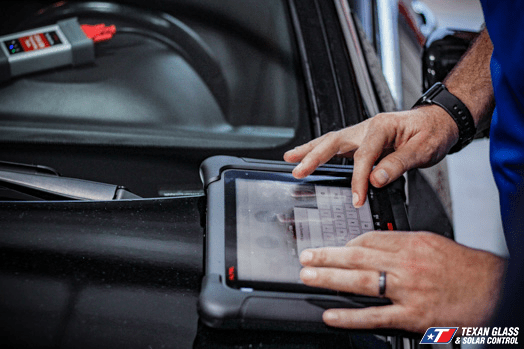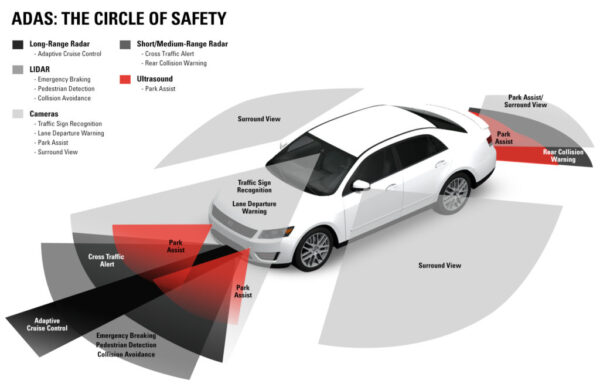 What Systems Need Calibration?
Lane Departure Warning Systems
Adaptive Headlights
Automatic Braking Systems (ABS)
Blind Spot Monitors
Collision Avoidance Systems
And more, depending on your vehicle
How Do ADAS Calibrations Work?
So you found out your vehicle requires an ADAS Calibration. What happens next? Depending on the type of calibration required, you may need to come to our shop. For others, we can perform the calibration during our mobile service. We will hook up your vehicle to the calibration equipment and perform a number of tests to ensure each safety feature is working properly- lane departure warnings, adaptive headlights, pedestrian monitors, etc. This process typically takes under an hour, but it depends on your vehicle's specific needs. Once we've successfully calibrated each safety system, we may need to test drive the vehicle to ensure everything is working properly. Once this is done, the calibration is complete and you can confidently drive your vehicle knowing it is working as it did when you first bought it!
How Do I Know If My Vehicle Needs An ADAS Calibration?
Don't worry, lots of our customers come to us not knowing if their vehicle needs an ADAS Calibration, and many do not know what that even is! If you contact us, make sure to provide us with the year, make, and model of the vehicle as well as knowledge on what safety sensors you have. If you're not sure, then we recommend having your VIN number handy as we will be able to research exactly what is on your vehicle if necessary. When you call us, we will guide you through the process and give you an accurate quote. From there, we can schedule an appointment for you as early as same-day. Contact us today to reserve your appointment!
How Much Does An ADAS Calibration Cost?
The cost of an ADAS Calibration ranges depending on the year, make, and model of the vehicle as well as the number and type of sensors that need to be calibrated. Typically, you can expect an ADAS Calibration to cost somewhere between $100-$300. Many of our customers find that it is worth it to go through insurance if an ADAS Calibration is required, as the calibration cost is in addition to the cost of the glass replacement. If your deductible is around $500, the calibration plus the glass can be right around that price and so it could be worth it to go through insurance in order to pay less. If you'd like some more information on how much your ADAS Calibration will cost, we invite you to give us a call!
Do I Really Need An ADAS Calibration?
Due to modern innovations in vehicle technology, auto glass is not just glass. In fact, auto glass has become very technologically advanced, harboring many essential systems your vehicle uses daily. For this reason, we strongly encourage you to at least check whether an ADAS Calibration is necessary for your vehicle. If you choose not to get one, not only are you essentially rendering the systems useless, but you're also potentially putting yourself and your passengers in a dangerous situation that could be avoided. When you purchased your vehicle you purchased it with these safety sensors, so part of the responsibility in maintaining your vehicle is servicing the safety systems. Because of this, we do not recommend you skip out on an ADAS Calibration. There may be some situations where a calibration is not necessary, and we will tell you when those situations come up. However, safety is our number one priority and we will advise our customers with this in mind.